The holiday season is just around the corner, and what better way to celebrate than by creating beautiful and festive decorations for your home with your kids? Crafting together not only brings joy and laughter but also allows for quality bonding time with your little ones. In this article, we will explore a variety of easy and fun crafts that you and your kids can enjoy making together. From handmade ornaments to delightful wreaths, let's dive into the world of holiday crafts!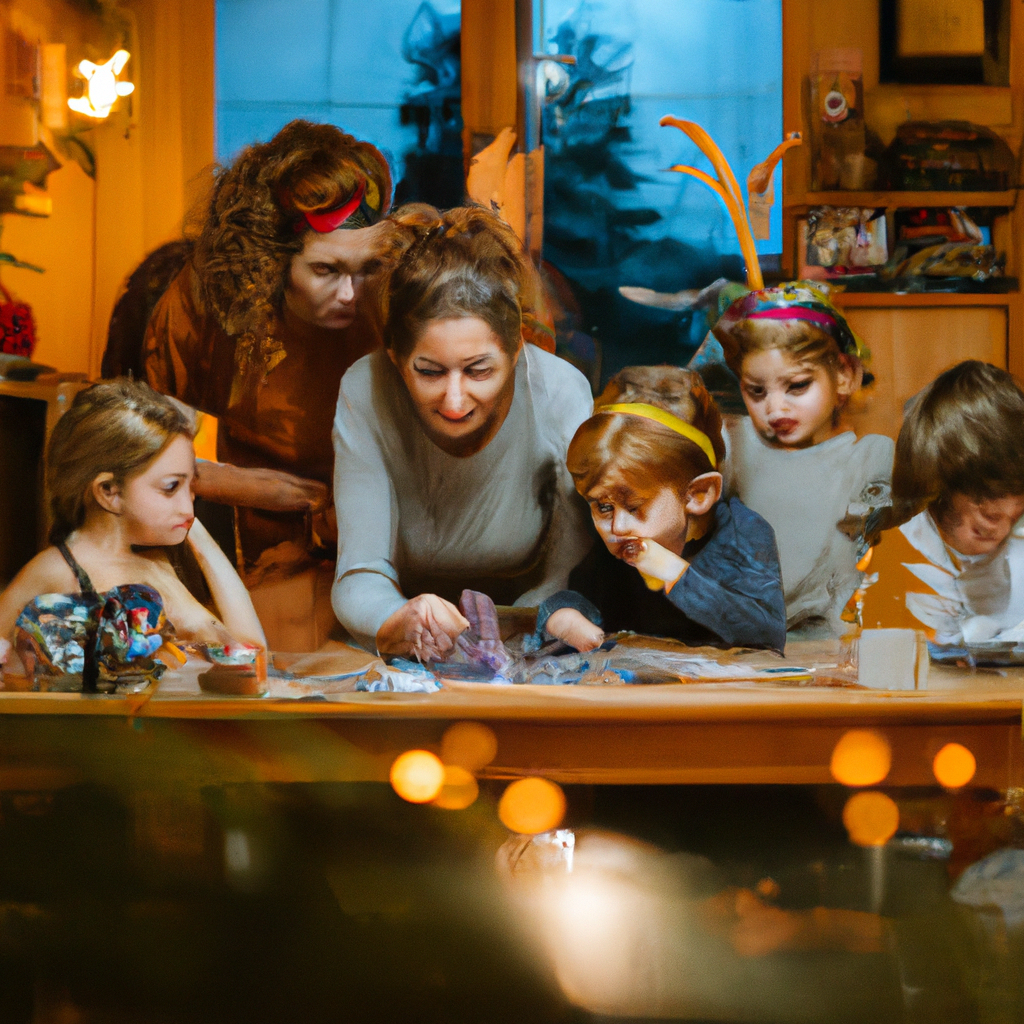 Handmade Ornaments: Memories that Last
Creating personalized ornaments is a wonderful way to add a touch of charm to your Christmas tree while preserving precious memories. Gather your art supplies and get ready for some creativity!
1. Salt Dough Ornaments
Salt dough ornaments are a classic and simple craft that never goes out of style. To make them, combine 1 cup of flour, 1/2 cup of salt, and 1/2 cup of water to create a dough. Roll it out and use cookie cutters to shape the ornaments. After baking them at 200°F for approximately 2 hours, allow them to cool before painting and decorating.
2. Popsicle Stick Snowflakes
Unleash your imagination by creating beautiful snowflakes using popsicle sticks. Glue together four popsicle sticks in the shape of a snowflake, then let your kids paint them in various colors. You can also add glitter for a sparkling effect. Hang these delicate snowflakes on your tree or use them as wall decorations.
3. Cinnamon Stick Ornaments
The delightful scent of cinnamon will fill your home with warmth when you make these charming ornaments. Simply glue cinnamon sticks together in the shape of a star, heart, or any other design you desire. Enhance their beauty by attaching ribbons, beads, or small bells. Hang them on your tree or use them as scented decorations around the house.
Festive Wreaths: Welcoming the Season
A wreath on your front door instantly adds a festive touch to your home. Let's explore some creative ideas to craft your own unique holiday wreaths.
4. Pom-Pom Wreath
Gather colorful yarn and create an adorable pom-pom wreath. Wrap the yarn around a circular cardboard template until it becomes thick. Carefully cut the loops, fluff up the pom-poms, and glue them onto a foam wreath form. Add embellishments such as miniature ornaments or ribbons for an extra festive touch.
5. Felt Leaf Wreath
Capture the essence of autumn with a beautiful felt leaf wreath. Cut out leaf shapes from various colored felts and attach them to a foam wreath form using hot glue. Overlap the leaves to create a full and vibrant wreath. Hang it on your door to welcome guests with a burst of seasonal cheer.
6. Pine Cone Wreath
Take a stroll outside with your kids and collect pine cones to create a rustic and charming wreath. Attach the pine cones to a foam wreath form using hot glue, ensuring they are tightly packed together. For an extra touch, spray paint the pine cones in gold, silver, or any other color that complements your holiday decor.
Festive Centerpieces: Bringing Joy to the Table
Complete your holiday decor by crafting festive centerpieces that will make your table shine.
7. Mason Jar Snow Globes
Transform ordinary mason jars into magical snow globes. Fill the jars with water, a sprinkle of glitter, and small figurines such as miniature trees or snowmen. Seal the jars tightly and turn them upside down to create a whimsical winter scene. You can also decorate the jar lids with ribbons or bows for an extra festive touch.
8. Candle Centerpiece
Create an elegant candle centerpiece by arranging pillar candles of different heights on a decorative tray or a beautiful plate. Surround the candles with seasonal elements like pine cones, holly berries, or sprigs of evergreen. Light the candles during your holiday gatherings to create a warm and inviting atmosphere.
9. Fruit Centerpiece
Craft a colorful and edible centerpiece using fresh fruits. Arrange a variety of fruits such as oranges, apples, and pears in a decorative bowl or basket. You can also add cinnamon sticks, cloves, or sprigs of rosemary for a fragrant and visually appealing arrangement. This centerpiece not only looks stunning but also serves as a healthy snack for your family and guests.
In conclusion, the holiday season is the perfect time to engage in fun and creative crafts with your kids. From handmade ornaments that hold precious memories to festive wreaths that welcome the season, and delightful centerpieces that bring joy to your table, there are endless possibilities to explore. By incorporating these easy crafts into your holiday traditions, you are not only creating beautiful decorations but also creating lasting memories with your loved ones. So gather your supplies, get your creative juices flowing, and let the crafting begin! Happy holidays!